O espetáculo Disney Stars on Parade na Disneyland Paris é, inegavelmente, um dos momentos-chave de qualquer visita ao resort francês, à semelhança do espetáculo noturno de fogo-de-artifício, Disney Illuminations.
Quer decidas passar um dia ou vários neste mundo mágico, assistir à parada diurna no Parque Disneyland é algo que tem de integrar a tua bucket list!
Por isso, queres saber mais sobre O Espetáculo Disney Stars On Parade Na Disneyland Paris? Continua a ler!
Este artigo pode conter links de afiliados, o que significa que eu ganho uma pequena comissão se fizeres uma compra, sem nenhum custo adicional para ti. Lê o meu aviso legal & política de privacidade para mais informações.
Sem tempo para ler agora? Guarda para depois!
Breve História do Disney Stars On Parade na Disneyland Paris
O espetáculo diurno Disney Stars on Parade na Disneyland Paris estreou a 26 de março de 2017 – com o propósito de comemorar o 25º Aniversário da Disneyland Paris. Sob o mesmo ponto de vista, esta parada veio substituir uma anterior denominada "Disney Magic On Parade!", que decorreu entre 1 de abril de 2012 e 24 de março de 2017, a fim de celebrar o 20º Aniversário da Disneyland Paris.
A Disney Stars on Parade na Disneyland Paris acontece todos os dias, embora esteja sujeita a alterações ou cancelamentos de última hora, devido a condições meteorológicas ou outros motivos de força maior. Tem uma duração de 40 minutos (na sua totalidade) e a hora de início depende da altura do ano, mas normalmente começa entre as 16:00 e as 17:30.
Antes de mais nada, a saída dos carros alegóricos acontece na Fantasyland, num grande portão rosa ao lado da atração "it's a small world". Em seguida, o desfile continua até à grande Central Plaza – em frente ao Castelo da Bela Adormecida – atravessa toda a Main Street e termina na praça à entrada/saída do Parque Disneyland, apelidada de Town Square.
Na Disney Stars on Parade na Disneyland Paris existem oito universos da Disney e Pixar para descobrir, com uma mensagem de descoberta contida em cada um deles:
1. Mickey & Amigos
Em primeiro lugar, o espetáculo começa com um desfile (meio inesperado e aleatório) de personagens de diferentes filmes de Walt Disney, como por exemplo:
Aladino e Génio (d' "Aladino", 1992)
Alice e Chapeleiro Louco (d' "Alice no País das Maravilhas", 1951)
Pinóquio (do filme homónimo, 1940)
Tigre (d' "As Extra-Aventuras de Winnie the Pooh", 1977)
Mary Poppins, Bert e dois Pinguins (de "Mary Poppins", 1965)
De seguida e com a mensagem "Discover the Magic", surge eventualmente o primeiro carro alegórico da parada, com alguns personagens vestidos como exploradores do futuro e num estilo steampunk. Na verdade, tratam-se dos protagonistas originais do universo Disney, ou seja:
Mickey Mouse e Minnie Mouse
Donald e Margarida
Pateta e Pluto
Tico e Teco
Entretanto, ao som do tema original "Lost in the Magic", é possível também perceber excertos de outras canções Disney, designadamente "A Whole New World" (d' "Aladino", 1992) e "Zip-a-Dee-Doo-Dah" (d' "A Canção do Sul", 1946).
2. Toy Story
O segundo momento da parada evoca uma das franquias cinematográficas mais bem sucedidas da Pixar: "Toy Story". Apresentado por um grupo de dançarinos, vestidos de cowboys e soldados do Exército Verde, o enorme carro alegórico sustenta-se assim na ideia de "Discover Friendship".
Com Buzz Lightyear, Woody e Jessie a bordo, são vários os jogos e brinquedos infantis aqui destacados, numa explosão de cor e diversão, que te leva certamente "para o infinito e mais além"! A canção que anima esta cena é "You've Got a Friend in Me" (do "Toy Story", 1995), que integra igualmente os restantes filmes da franquia.
3. O Rei Leão & O Livro da Selva
De repente, somos transportados para um mundo exótico, de savanas e selvas. Com figurinos tribais, maquilhagens garridas e inspiração de pássaros, flores e macacos, as dançarinas deste número apresentam o terceiro universo da Disney.
Num carro alegórico recuperado da antiga parada "Jubilation!" da Tokyo Disneyland, aqui o mote é "Discover Adventure". Na mesma cena são apresentados personagens de dois filmes distintos da Disney:
Rafiki e Timon (d' "O Rei Leão", 1994)
Rei Louie e Mogli (d' "O Livro da Selva", 1967)
A banda-sonora também se reparte pelos dois filmes, podendo-se ouvir as canções "I Just Can't Wait to Be King" (d' "O Rei Leão", 1994), "The Bare Necessities" (d' "O Livro da Selva", 1967) e "I Wan'na Be like You (The Monkey Song)" (idem).
4. Peter Pan
A quarta cena da Disney Stars on Parade na Disneyland Paris é inteiramente retirada do filme de animação "Peter Pan", de 1953. Os primeiros personagens a revelarem-se são Wendy e quatro Meninos Perdidos.
Logo de seguida, chega um carro alegórico também emprestado da parada "Jubilation!" da Tokyo Disneyland. Com o significado "Discover Imagination", divide-se em duas partes:
Capitão Gancho e Smee, na Ilha da Caveira
Peter Pan e dois Meninos Perdidos, num navio suspenso sob uma lua fantasiosa
Prepara-te para cantar os temas mais conhecidos de "Peter Pan", como "You Can Fly!", "Following the Leader", "The Second Star to the Right" e "A Pirate's Life".
5. À Procura de Nemo
Inspirado no filme Pixar de 2003, "À Procura de Nemo", o espetáculo neste momento anuncia a mensagem "Discover A New World". Com um cortejo de três criaturas marinhas, acompanhadas por Nemo, Martin e Dory somos todos enviados para a Grande Barreira de Coral Australiana.
O carro alegórico – um dos mais originais de toda a parada – contém inúmeras outras personagens do filme, como por exemplo Crush e Squirt. Ao som do tema principal da franquia, "Beyond the Sea", a parada avança por entre bolas de sabão, muitas bolas de sabão!
6. Dragão (Maléfica)
Depois da água, vem o fogo. O dragão que representa a Maléfica é considerado por muitos como a verdadeira "estrela" da parada principal. Em estilo steampunk, a grande caraterística deste carro alegórico é que lança fogo!
Baseado no filme de animação "A Bela Adormecida", de 1959, o mote deste universo é "Discover Enchantment". A cena começa com uma batalha épica entre o Príncipe Filipe e três monstros.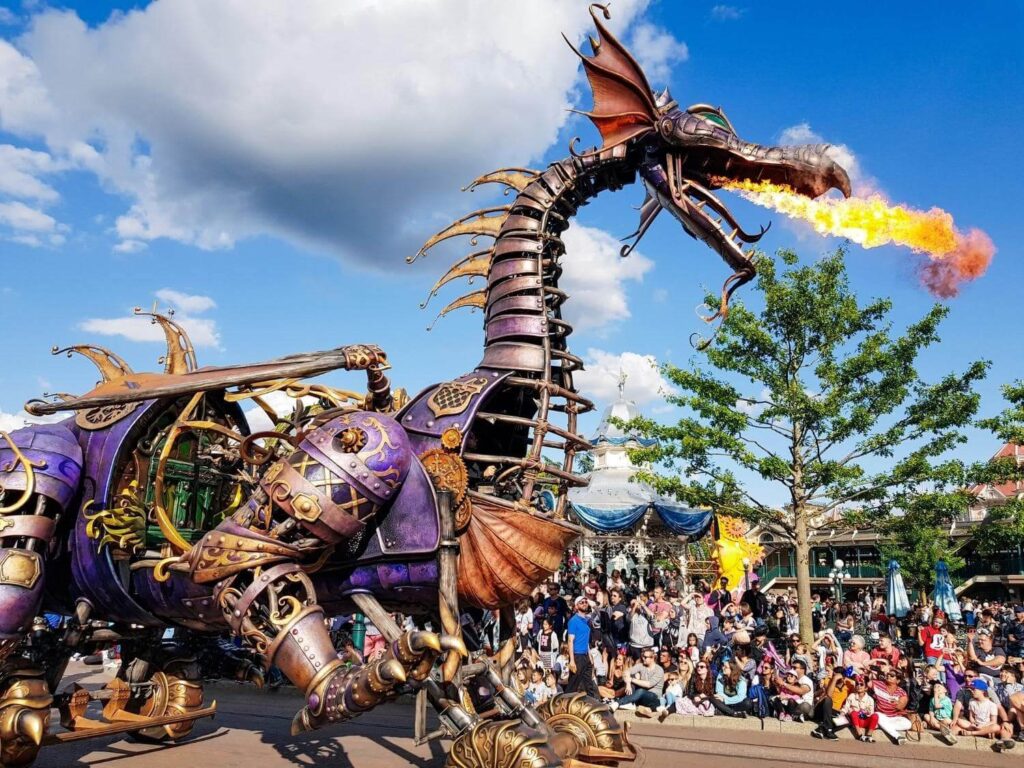 Mas o dragão maléfico assume todo o protagonismo, mal é avistado. Ao som de "Battle with the Forces of Evil" (d' "A Bela Adormecida", 1959) e "Hail to the Princess Aurora" (idem), é possível avistar todos os mecanismos da figura imponente, que parece saída do imaginário de Jules Verne.
7. Princesas e Príncipes
Felizmente, nos contos de fadas há sempre finais felizes. Ao contrário das cenas anteriores, nesta em específico não existe um carro alegórico monumental mas sim três pequenas carruagens, recicladas da parada parisiense precedente, "Disney Magic on Parade"!
Estes coches trazem três dos casais preferidos da Disney, nomeadamente:
Rapunzel e Flynn Ryder (d' "Entrelaçados", 2010)
Bela e Príncipe Adam (d' "A Bela e o Monstro", 1991)
Cinderela e Príncipe Encantado (da "Cinderella", 1950)
Ao mesmo tempo, desfilam outros personagens dos clássicos de animação, numa espantosa coreografia, como por exemplo:
Aurora e as Três Fadas – Flora, Fauna e Primavera (d' "A Bela Adormecida", 1959)
Branca de Neve e Príncipe (da "Branca de Neve e os Sete Anões", 1937)
Ariel e Príncipe Eric (d' "A Pequena Sereia", 1989)
Tiana e Príncipe Naveen (d' "A Princesa e o Sapo", 2008)
Neste segmento, escutam-se algumas das canções preferidas do público, ou seja, "Someday My Prince Will Come" (d' "A Branca de Neve e os Sete Anões", 1937), "I See the Light" (d' "Entrelaçados", 2010) e "A Dream is a Wish Your Heart Makes" (da "Cinderella", 1950).
8. Frozen
O último carro alegórico do espetáculo Disney Stars on Parade na Disneyland Paris faz as delícias dos mais pequenos. "Discover Wonder" é nada mais, nada menos do que uma homenagem a um dos grandes sucessos da Disney: o filme de animação "Frozen", de 2013.
O carro alegórico é apresentado por Kristoff e quatro dançarinas, que representam flocos de neve. Seguem-se Anna e Elsa, que acenam ao público do topo da varanda do seu Palácio de Gelo. Por entre um remix animado de dois dos temas mais conhecidos do filme – "For the First Time in Forever" (de "Frozen", 2013) e "Let It Go" (idem), a parada termina com muita neve e animação.
Partilha este artigo nas tuas redes sociais!
Mais Artigos sobre a Disneyland Paris
Mais Artigos sobre Espetáculos
Que Equipamento Fotográfico Utilizo?